Hunting can be quite a challenge as hunters need to carry all their equipment and keep moving from place to place to find prey.
Whether you chase waterfowl, deer, or big game hunting, finding the right pack for your hunting style makes a world of difference to your hunting experience.
Hunters need to be prepared for anything that may happen on the hunt. They should have water bottles, flashlights and batteries as well as hunting tools, food and so on.
The hunting backpack helps the hunter in so many ways. It can carry all of these necessary items that are important to the overall enjoyment of the hunting experience, plus it helps you to move around easily as it leaves your hands free.
But finding the right hunting backpack is also not an easy thing as they come with a variety of prices and features as they come with a good carrying space, durability, adjustments, and other good features. Choosing the right hunting backpack depends on your needs and requirements.
In this guide, we will mention the 7 Best Hunting Backpacks to help you choose the one that suits you the best.
How to Choose the Best Hunting Backpacks?
There are a lot of factors to focus on when you are buying the best backpacks for hunting for your next hunting trip, those factors include:
Weight
Hunting bags are usually heavier when compared with student bags or travelling bags. If you intend to carry your hunting backpack for long periods of time, make sure it has the right weight. The backcountry hunters should look for one that is as light as possible as you can not carry other hunting tools in your backpack if your backpack weighs too much.
Plus, we all know that carrying a heavy backpack is not good for your back. It will make you tired easily because of the added pressure, which can lead to even more problems during hunting.
Lightweight and convenient packs are more suitable to use. You can put all your necessary tools or stuff in it easily, without having too much weight on yourself. It won't even create problems while you are walking, running or on long hunts.
Also, the lighter backpacks are great when you need to cover long distances quickly, especially since they don't slow down your movement as heavier models can.
The Material or Fabric
The material is another thing you need to look for when buying a hunting backpack, as there are different materials that are used for making those backpacks.
Some of those materials are nylon, leather, polyester, and more. Sometimes you will see some combinations of other fabrics or materials too. The backpack has to be stitched perfectly from the right areas.
When you select the perfect material, it will ensure that your backpack will get better durability, and as a result, it will last for a long time.
Adjustability
The adjustability is a big plus for any hunting daypack. The weight lifter, straps and waist belt should be adjustable so that you can adjust them to fit your needs, as sometimes the backpack doesn't fit us properly.
A proper adjustment of the backpack allows enough room to use the backpack the right way. In this way, the hunter can carry all of his equipment in this backpack without facing many problems. So it provides good functionality and ensures the best possible hunting experience. So buy backpacks that allow you more flexibility in shape and size.
The Organization
Many hunting packs now feature specially designed compartments to fit certain items.
A pack that features different pockets, straps, and compartments are going to give you better organization. It helps to keep your cell phone, water bottle, wallet or any other thing that you need an easy reach for.
Carrying Capacity
Hunters know how important having a good amount of carrying capacity that is enough for all of their gear when they're out for waterfowl, duck, turkey, elk, deer hunting, or else. Otherwise, What's the point of buying a hunting backpack If the carrying space is not enough?
As a start, It's important to know how much space you need in your backpack before buying one. For instance, hunters who like to go on hunting during most times of the year will need a lot of carrying space. Those hunters need to buy a backpack with maximum carrying capacity so they can carry their gear.
But for one-season hunters, a minimal amount of carrying space will also do well. Your choice also depends on your requirement.
Price
Of course, the price is an essential factor when you buy the best hunting backpack, you need to look for the pack that matches your needs and suits your budget as well. For those who are new to hunting, an entry-level pack may get their job done while the professionals are going to spend more but get more. But after all, this all depends on your requirements.
 7 Best Hunting Backpacks
ALPS OutdoorZ Crossbuck Hunting Pack
Badlands 2200 Hunting Backpack with Built-in Meat Hauler
ALPS OutdoorZ Commander + Pack Bag
ALPS OutdoorZ Pursuit Pack, Coyote Brown, 44 L
ARMY PANS Hunting Backpack for Men
Peregrine Venture Bucket Pack Hunting Combo
Fieldline Pro Series Womens Treeline Backpack
---
1. ALPS OutdoorZ Crossbuck Hunting Pack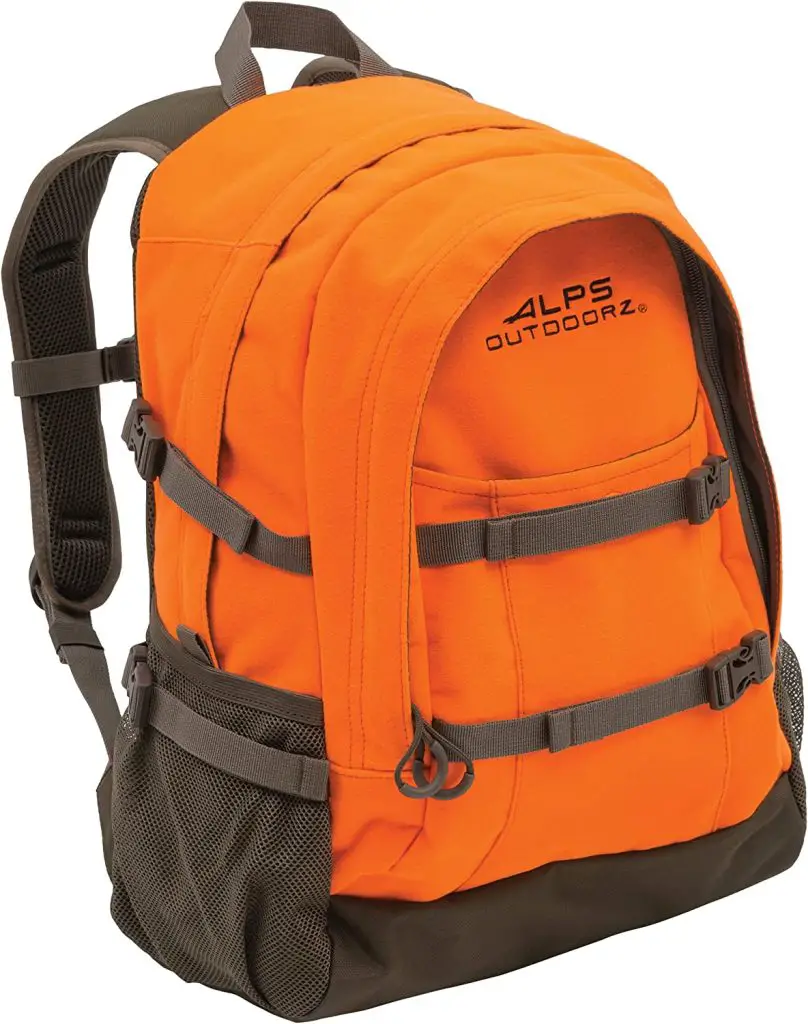 The ALPS OutdoorZ Crossbuck Hunting Backpack has a simple and straightforward design that makes it reliable in the field. It is a medium-capacity hunting backpack that provides an affordable way to take your hunting gear with you on all of your trips.
If you are looking for a hunting backpack that can hold up to the abuses of just about your outdoor adventure and provide some storage for your essential gear, this is an excellent choice. It comes at an affordable price and gets things done without hassle.
The Crossbuck hunting backpack is a no-frills, simple pack that comes with all the features required to accommodate your style of hunting.
Plus, It is exceptionally lightweight, with a decent amount of storage. It features side mesh pockets and a front pocket for organization. The side external pockets on this bag are perfect for storing water bottles or other small items.
 All of this makes it a perfect choice for whoever needs to carry their essentials on the go. This versatile daypack is perfect for lightweight hunting trips and light gear. The fabric of this backpack is near silent, so it's a good option for stalking your prey. 
Another feature is, It comes with a breathable mesh back which offers superior comfort as breathability is provided through the mesh back, and the padded shoulder straps make it easy for you to carry. The Crossbuck Hunting Backpack features adjustable compression straps to ensure a secure fit.
Pros
Exceptionally lightweight
It comes with multiple pockets that provide a fair amount of organization and storage
Padded shoulder straps and back pad to provide extra comfort
Quiet fabrics are suitable for stalking
Cons
Lacks technical features like a weapon carry system
No hip belt
Not so good for longer hunting missions
Final Thoughts
If you want a hunting backpack with a simple and straightforward design and affordable price, the ALPS OutdoorZ Crossbuck Hunting Backpack is what you need.
Not just for hunting trips, this backpack is suitable for multiple uses. It's perfect for a light day trip to the tree stand, but it may also be worn to work, school, or the gym.
---
2. Badlands 2200 Hunting Backpack with Built-in Meat Hauler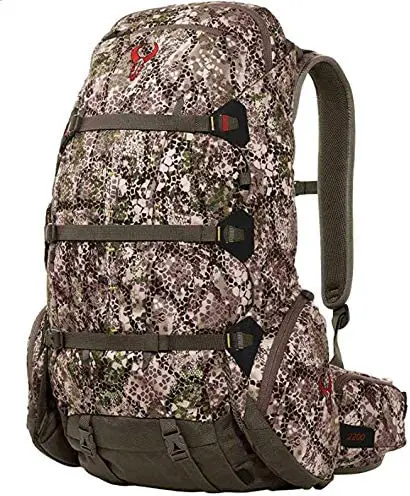 If you're looking for a backpack hunting that is comfortable and adjustable, the Badlands 2200 hunting pack might be just what you need. With its moulded memory foam suspension and harness to conform to your body perfectly, this product will ensure all-day comfort no matter what items it contains.
The durable, 100% waterproof KXO-32 fabric is one of the biggest recent improvements made to Badlands' 2200. The previous models were relatively water-resistant, but this new fabric takes the pack to a whole new level.
The pack is treated with C6 Durable Water Repellent, which means it will stay dry and prevent any moisture whatsoever from seeping into the backpack, which results in rolling off any beads of water that will hit the fabric.
The frame of the pack is made from a proprietary magnesium alloy, which offers an even lighter weight and is twice as strong as T6 aluminum.
The zippers on Badlands gear are designed to be durable, thick and quiet, making them perfect for any hunting trip as no one wants to accidentally scare their target off by having to open or close a loud zipper.
The Approach Camo pattern is designed to adapt and work well in various environments and lighting conditions, further aiding in discretion.
The Badlands 2200 Hunting Backpack has an innovative waist belt that offers reverse tightening, which allows you to pull both ends inwards for extra leverage and belt precise cinching that provides optimal comfort and provides a very even weight distribution.
This backpack is the perfect choice to carry your gear for any type of outdoor adventure, with its many special features. The sleek design of this hunting pack makes it one for all seasons.
The detachable rifle and bow boot with batwing straps hold weapons well, even when optics are attached. The boot drops down from the bottom of the backpack and comes with cross straps for security.
You can carry everything you need and more in this pack. There are 8 different pockets to hold it all. The most special thing about this backpack is that it has a built-in meat shelf in it. It can load big-time kills like quarters of elk meat as well.
Pros
Very tough and durable backpack
Has good carrying space
Has a built-in meat-shelf
Comfortable and easily adjustable
Cons
Expensive
Final Thoughts
The Badlands 2200 Hunting Backpack is a great choice for backcountry hunting, it is manufactured with robust materials that are soft yet durable with plenty of storage space.
You won't be disappointed with the Badlands 2200 hunting pack. It is designed to last, and it does so without sacrificing comfort or quality. It is a beautifully-designed backpack, and this product has everything you need in one package for your outdoor adventures ahead of time.
---
3. ALPS OutdoorZ Commander + Pack Bag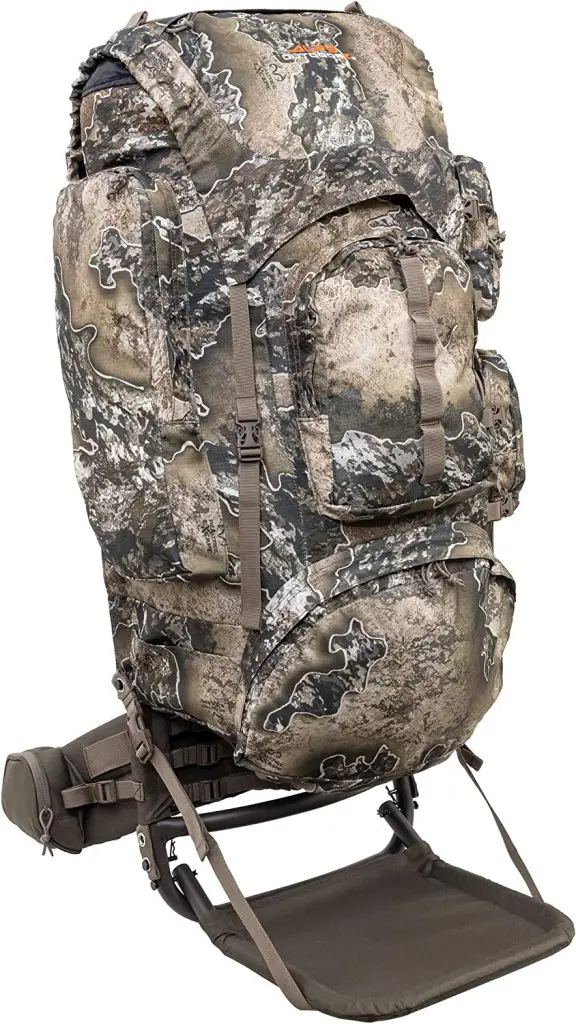 The OutdoorZ Commander + Pack Bag is a great choice for any hunter who wants the best value for money hunting backpack, period. This backpack includes a number of features typically found on higher-priced ones.
But that doesn't make it cheap, the only main difference is the frame is made out of aluminum frame and not carbon fibre. The backpack comes in the proper size and weight and has all of those innovative technical features you need for an awesome hunting experience without breaking your budget.
It is for those who want what is absolutely necessary to have a successful hunt and don't care about all the bells and whistles, they just want to get the job done without fuss. 
You'll be in complete control of this pack. It seems to have it all. The long-lasting ripstop fabric provides you with a durable option to take with even the most extreme weather conditions.
The tough stitching, compression straps and solid clips will ensure that your gear is securely fastened. The padded shoulder and waist straps provide the ultimate performance while also being comfortable.
The clip-style holster on the belt straps is perfect for carrying your essentials on the go. Now you can keep your essential items close with this easy, accessible design. Some of the items that could easily fit in these pockets are small firearms, compass, ammo, and cell phone.
The OutdoorZ Commander + Pack Bag comes with a drop-down rifle pocket that is more like a gun boot that keeps your hands free and stores nearly any long gun safely upright.
Another feature, it comes with a capacity of 5250 cubic inches in the main compartment. You'll never be short on storage space with this pack, it comes with multiple pockets, and on the side of the pack, there is a spotting scope pocket.
Finally, the backpack lashing system makes it easy to haul meat and comes with three extra extension straps, as well as a freighter shelf for heavier loads.
Pros
Extremely spacious
Lashing system and shelf
Pack bag included
Hydration compatible
Drop-down rifle holder pocket
Webbing loops for lashing
Durable Ripstop fabric withstands heavy use
External frame system
Cons
Bulky
Final Thoughts
If you're looking for a long-term use hunting backpack that can withstand harsh hunting environments, look no further than ALPS OutdoorZ Commander + Pack Bag. It also features ample space to store your essentials to ensure a successful hunt and keep them secure while out in the field.
---
4. ALPS OutdoorZ Pursuit Pack, Coyote Brown, 44 L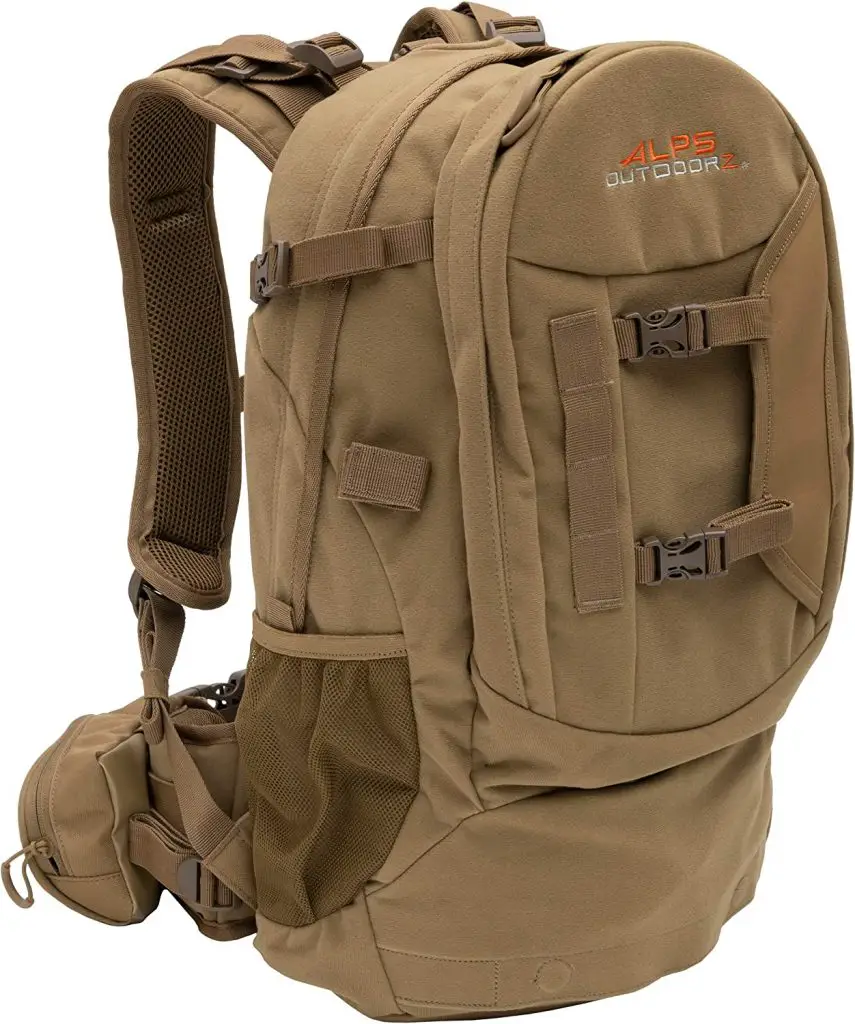 ALPS OutdoorZ Pursuit Pack is perfect for hauling a lot of gear into the woods when you go bow hunting without being too bulky or heavy as it has plenty of room, and it comes at a really affordable price.
The pack has more than enough capacity for all your belongings as the storage capacity is listed as 2,700 cubic inches. You can use this to keep different tools such as tree hooks, calls, knives, flashlights and more.
Obviously, in the early season, you will not need the whole space in the Pursuit's cavernous main pocket, where you may typically carry extra layers once the mercury dips.
The lightweight design of this pack allows you to carry it in the early season, even though it's not filled, especially if you prefer to use one pack all season rather than switch halfway.
Once you get your basic gear organized, you don't want to transfer it and reorganize it in another pack. Besides, it is very annoying it also can cause you to leave something behind.
ALPS OutdoorZ Pursuit Pack has an organization shelf that's part of its large front pocket. This is a great feature of this pack, just unzip the pocket face all the way, and the rigid face falls forward to serve as a shelf held in place by straps.
The shelf of this pack comes with mesh pockets to store your hunting gear, plus there are many other small storage pockets on the vertical face that are now exposed for stowing things like rangefinders, flashlights and other things you might want to grab quickly. The things on this shelf are right at your fingertips.
The mesh-bottom pockets on the bottom of each side and corresponding straps on top make this pack perfect for any adventure.
The mesh pocket and strap on one side of the pack are a great place to keep your tree stand umbrella if you are expecting it to rain. It is a better place for your umbrella than placing it inside your pack. 
If you want to film your hunting adventures, the mesh pocket and strap on the other side would be perfect for holding a camera arm.
It also comes with a D-ring clip that allows you to easily hang the pack from a tree while hunting and drop-down pocket to carry your gun or bow securely and a quiver holder on each side of the pack. Finally, for your comfort, this pack comes with a padded waist belt to also provide the best performance during your journey.
Pros
Large main pocket area
Tons of pockets to organize your gear
D-ring clip
Comfortable when hauling heavy loads
Waist belt with pockets
Great price
Drop-down pocket that is ideal for carrying a gun or a bow
Front lashing system
Blaze orange rain cover included
Hydration pocket
Cons
Not for those who are not a fan of the aluminum spine
Final Thoughts
If you want a comfortable pack that you can use during the whole season, then the ALPS OutdoorZ Pursuit Pack is your best choice. It comes with ample features and a lot of storage area to keep all your hunting gears while providing easy access to them. If you are hunting on rainy days, the pack comes with a Blaze orange rain cover to protect it from rain.
---
5. ARMY PANS Hunting Backpack for Men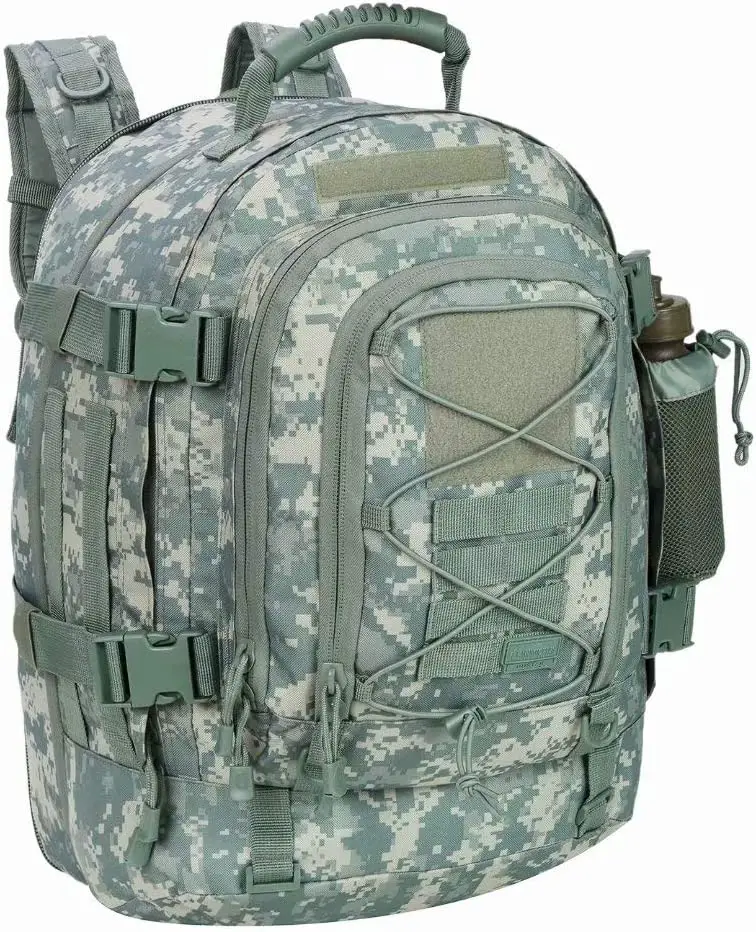 ARMY PANS Hunting Backpack for Men is great for all outdoor activities. It can be used to go hunting or just on an everyday hike, but it's also ideal if you plan on travelling by land-based vehicle without having any problems with your belongings and even for work and school.
Though this pack was mainly designed for men, women can also enjoy using it in their desired colour. It is for those who want to make sure they are always prepared as it has multiple uses, plus it comes with a variety of colour options that can suit any taste. That's why this backpack has gained wonderful ratings and reviews.
Another feature there is a Molle system in which you can keep a small pouch or Velcro. The ARMY PANS Hunting Backpack comes with 4 main loading areas, the front compartment to place your cell phone, wallet, your key and so on, while the middle compartment that has a special net bag can be used to put your tablet, iPad, flat plate and the book.
While in the main compartment you can put some clothes on it and so on. It works great to hold items like fuses and food, flashlight, and anything you may need for your journey.
Overall, this backpack is good enough for a three days hunting trip, it has a lot of room for many items with plenty of separate compartments you have organized. Also, there is a mesh pocket on the side of the pack to keep your Water bottle.
ARMY PANS Hunting Backpack also comes with an adjustable chest belt that can disperse the pressure of the backpack, making it more comfortable to carry. Also, this adjustable belt helps to allow the whole backpack to fit your body, and the additional straps around the chest and waist help to distribute the weight better.
Pros
Four main compartments to organize your items.
Well-made backpack
A multiple-purpose backpack.
Durable and economical
Various colour
Adjustable chest belt
Ergonomic design that helps keep your hands free.
Comfortable in carrying heavy objects.
A three-day hunting pack
Cons
Side pockets do not give enough room.
Final Thoughts
If you want a multiple-use pack that you can use not just for hunting but also for other different outdoor activities such as camping and hiking and even for work and school, then the ARMY PANS Hunting Backpack is what you need.
You do not need to have a healthy budget to buy this pack as it comes at a low price, and with a maximum packet, capacity can reach 64L.
---
6. Peregrine Venture Bucket Pack Hunting Combo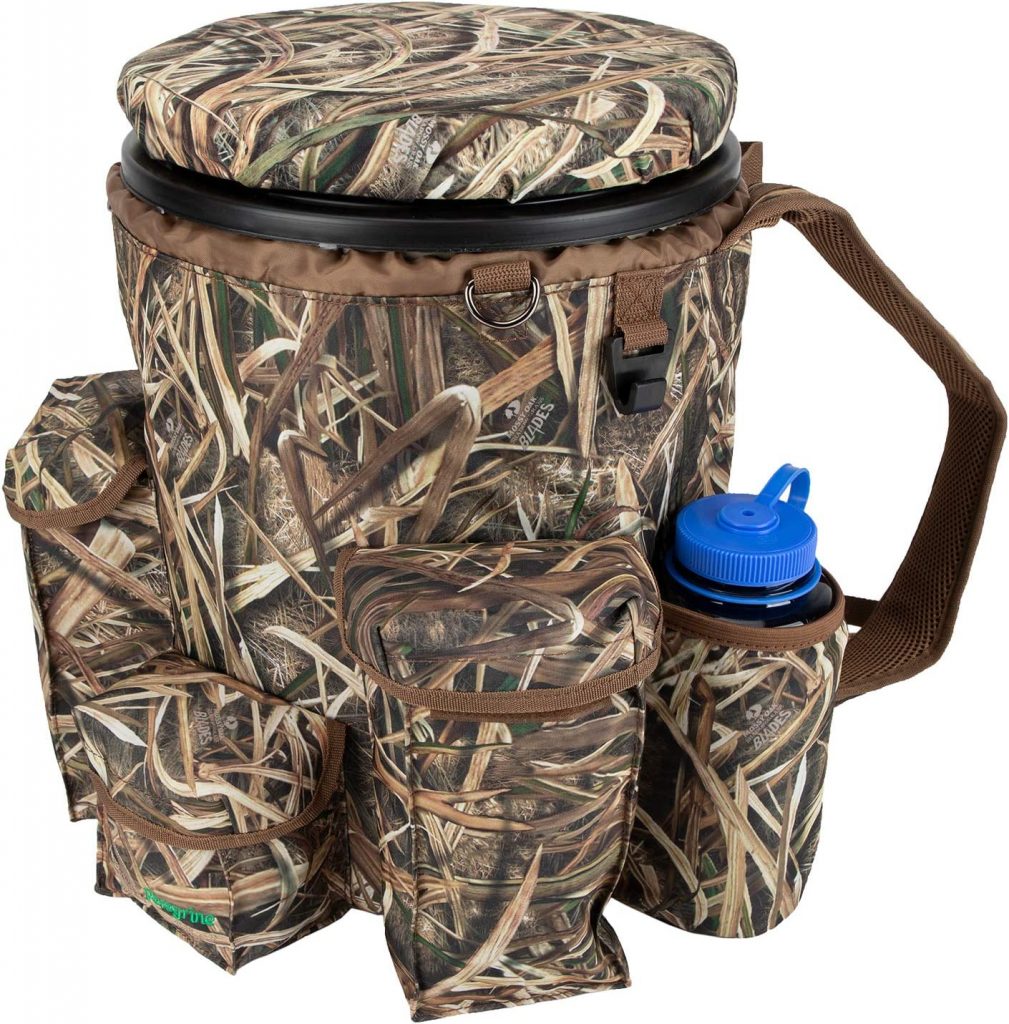 The Peregrine Venture Bucket Pack Hunting Combo is an extraordinary hunting bucket backpack that belongs to Peregrine Outdoor Products. It features a unisex design that comes with enough storage ability for your ample stuff to use during your hunting journey.
This stylish design is perfect for anyone with lots of gear. It has room to carry 5 boxes of shotgun shells of 3 inches each and 5-gallon buckets with water bottles.
The durable fabric and reinforced nylon in this hunting backpack make it perfect for all your outdoor adventures. This durable fabric is also stitched at all stress points to ensure maximum durability.
The bag has an interior that is fully insulated and a 360-degree silent spin lid. The Peregrine Venture Bucket Pack Hunting Combo has a nylon base and non-slip feet to keep it from slipping around.
More than this, It comes with Ergonomic shoulder straps that keep the pack close to your back. The ultra-soft padded back pad provides extra comfort, while the chest straps are helpful to keep shoulder straps in the desired place. All of this makes this pack more comfortable to carry.
Another feature, it comes with dual insulated water bottle pockets (1 L each) to keep you stay hydrated. This day pack keeps all your hunting gear in one place, so you can go out on a hunt without worrying about where it is or if something went missing, you only need to enjoy the trip.
An exceptional feature of this pack is the silent spinning bucket lid seat which helps you to make smooth movements and to sit comfortably.
Pros
Comfortable Silent Swivel Seat
A padded back pad for support and comfort
It comes with a nylon base with non-slip feet
Durable and long-lasting
Ergonomic shoulder straps with chest strap
Dual insulated water bottle pockets
360-degree silent spin lid
Unisex design with a lot of Storage area for essential items
Cons
Heavy in weight when compared with other hunting backpacks.
Not too much water resistant.
Final Thoughts
The Peregrine Venture Bucket Pack Hunting Combo is a hunting pack with a lot of storage area and has a good price. You can use it for dove, duck, deer, and turkey hunting, ice fishing, shore fishing, and more. Plus, this pack comes with insulation that can keep your contents cold for up to 26 hours.
---
7. Fieldline Pro Series Womens Treeline Backpack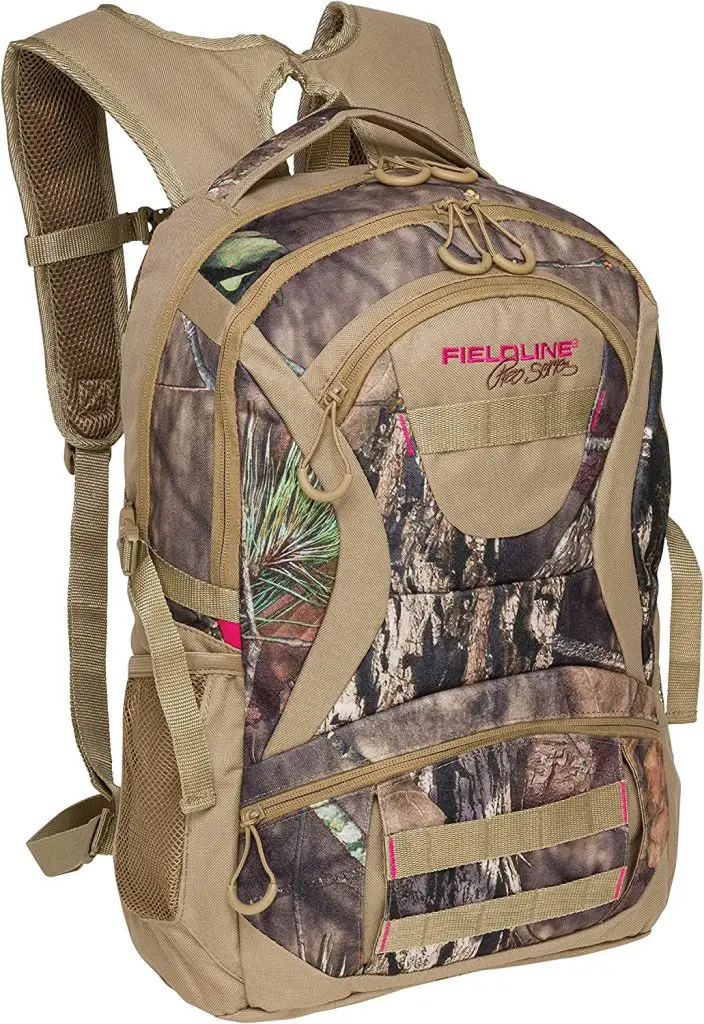 The Fieldline Pro Series Women's Treeline Backpack is one of the best economical backpacks. It is made for the hunt. Whether for duck hunting, elk hunting or whatever game you are after, this camo backpack is a great choice.
It comes with plenty of features, the durable materials and lightweight design make it perfect for different outdoor adventures.
Not just for women, the innovative design of this backpack allows it to be used by men as well who want to go for quick hunting trips.
This pack is manufactured of durable polyester fabric and comes with two mesh side pockets to keep two water bottles as It is compatible with a 2-litre hydration reservoir. This makes it a great choice to carry around all your belongings and keep them safe. 
The Fieldline Pro Series Womens Treeline Backpack is a heavy-duty pack with different rooms to keep your items. First, it comes with an extra-large main compartment that you can use to carry heavy loads. Plus, there is a roomy secondary compartment with its own organizer, which is perfect for keeping everything from snacks, spotting scopes and more.
More than this, there is a front pocket with a zipper closure that is ideal for keeping things such as keys, tags or handheld radios accessible. 
This does not end here, the backpack also comes with a padded back, a yoked shoulder strap system with an adjustable sternum slider, and a one-inch waist belt. These all work together to add extra support and comfort in the field to let you enjoy your hunting trip.
Plus, the backpack features a Molle webbing system that allows you to attach more pouches and tactical essentials to your gear for easy, quick access.
The side compression straps of the backpack helps in stabilizing and balancing packed gear. Finally, the backpack zippers are ultra-quiet, you do not want to miss your prey because of a noisy zipper, it is available at an affordable price.
Pros
A great backpack for quick trips.
Compatible with a 2-litre hydration reservoir.
Molle webbing system
Adjustable sternum slider
Durable and economical backpack.
Deluxe padding
An adjustable sternum slider.
Ultra quiet zippers
Cons
Does not have enough storage space.
Final Thoughts
If you want to buy a small hunting backpack that offers a bundle of features to make sure a comfortable trip, then the Fieldline Pro Series Womens Treeline Backpack is what you need.
Not just for hunting, this backpack is for other outdoor activities. Whether you're going on an adventure in the woods, camping with your family or just travelling across the country, this bag is made for you.