Duck Hunting Tips | Duck Hunting Outfitters | Duck Hunting Pictures | Duck Hunting Videos
We are pleased to bring you our great Hunting In Canada Duck hunting tips, Duck hunting outfitters, Duck hunting pictures and Duck hunting video for you to enjoy.
Our recomendations and pictures for Duck hunting come from hunters just like you and us. We enjoy the outdoors every chance we get, and we can not get enough. Help us and others get more Duck hunting information by adding you own expertise to the site. Join the hunting photo contest or add your own hunting tips. We, and other Duck hunting fans will appreciate your contributions.
Duck Hunting Tips
Date & From
Hunting Tips
2013-03-06
By:Annonymous
On passing shots, when birds are moving from left to right, or right to left, use an aiming technique that allows you to see the target. Swing your shot gun muzzle through the target from behind, and swing it slightly below the bird so you can see the target all the way through the shot. …and dont stop the swing when you pull the trigger, or you will likely shoot behind the bird.
2013-02-23
By:Annonymous
When hunting over ponds for ducks, you need to consider three factors for choosing your location: wind direction, size of water, and cover. Obviously ducks will land into the wind and the combination of wind direction and water size should determine your location. If the pond or slough is too large to shoot across, position your self on the leading edge of the water so that all ducks have to fly over you, into the wind, to get to the water. If you can shoot across the water, choose to have the water in front of you with the wind at your back. Lastly, find some cover or bring some cover to conceal yourself. If you are on the front edge you need to either be completely covered or you need to blend in completely. If you are on the back edge of the water, you need to make sure you do not have silhouette above the horizon.
2012-08-20
By:Waterfowler
If you are a greenhead fanatic, save your shells for October when their heads turn that beautiful emerald color. Go and shoot pintails and canvasbacks and gadwalls until the Mallardd green up.
2011-07-12
By:Waterfowler
With high water levels expected this fall, ducks will have numerous bodies of water to go to. To improve your hunting parties chance for success, split up your group on two neighboring ponds or sloughs and try to catch them bouncing in between. If the ducks get shot off one pond, they will usually look for the next closest body of water.
2010-08-24
By:Woodsman
In late season, ducks will travel in smaller groups. Set up your decoys in smaller groups, 8 to 10 in a group. Set the groups 25 to 50 feet apart. If your are hunting ducks near water, make sure you have some floaters out on the water.
Comments:
-> Great tip. I have always set my decoys out in a scatter pattern, no matter the season and in the late fall I get a lot of fly bys. I'll try this approach later this hunting season.
2010-07-10
By:Waterfowl hunter
Late season duck hunting is different than early season. Flocks are often smaller and your decoy spread should be set differently. Set your decoys in several smaller groups of 6 to 10 decoys. Place the groups 20 to 30 yards apart.
2010-06-24
By:Annonymous
The first birds to arrive to your early morning decoy spread will be ducks. Get ready for them with duck loads in your shot gun instead of goose loads. Keep your #2 and BBB handy for when the geese come later.
Submit your own Duck Hunting tips
Duck Hunting Outfitters
Our Featured Duck Hunting Guides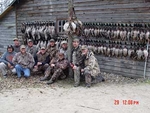 ---
Goose, Duck,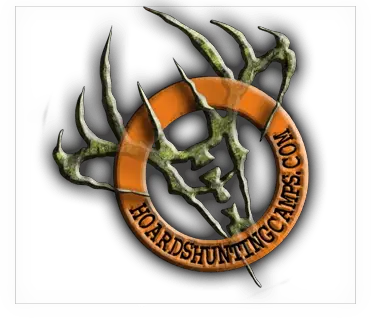 Pinawa
---
Goose, Black Bear, Duck,
No Fly Zone Waterfowl Outfitters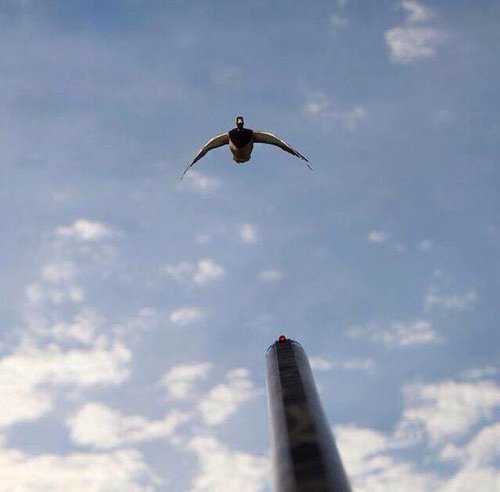 Aberdeen
---
Goose, Duck,
For more Duck Hunting Guides see HuntingInCanada.net
Duck Hunting Pictures
Submit your Duck Hunting Pictures or enter our Hunting Photo Contest. All photos submitted will be reviewed by Hunting In Canada prior to posting.
Nice Greenheads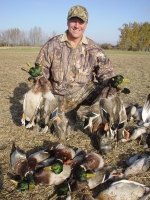 From: near Quill Lakes, Saskatchewan
-> nice
Opening Day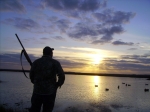 From: Danbury
Widgeon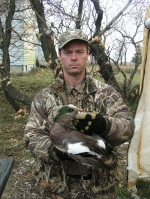 From: Esk, SK
Duck Hunting Northern Style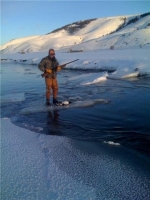 From: Colorado
Limit of Mallards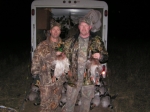 From: Lanigan, SK
Shot our limit of Mallards, knocked down a bunch of Canada Geese as well
Nice Mallard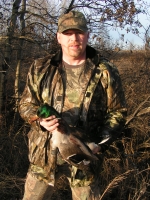 From: West of Lanigan, SK
field shoot, took a number of Canada geese and a bunch of Mallards as well
Maddux with a duck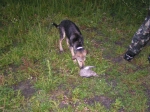 From: Saskatoon
duck hunt near Saskatoon
Fall 2008 Duck Hunting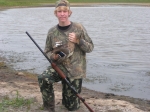 From: Saskatoon
One of three ducks we shot this evening.
Duck Season 2008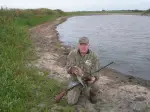 From: NE of Saskatoon
Opening day of duck season 2008. We snuck a slough. The big Canada's took off as we approached but this lone duck stayed behind until we were in range.
Brett with a Teal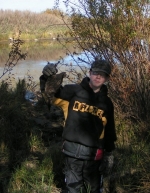 From: Saskatoon
Duck hunting on a small pond near Saskatoon.
Kyle's Shoveler duck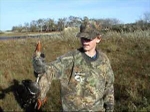 From: Saskatoon, Canada
We were sneaking sloughs north east of Saskatoon. We found one with plenty of cover to get close enough for Kyle was able to get his first duck, a shoveler.
hunting in Saskatchewan.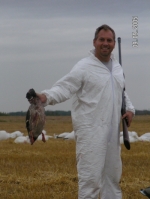 From: Quill Lakes, Saskatchewan
Goose, duck and sandhill crane hunting near Quill Lakes
hunting in Saskatchewan.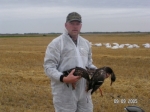 From: Quill Lakes, Saskatchewan
Goose, duck and sandhill crane hunting near Quill Lakes
Duck Hunting Videos
Suggest a Duck Hunting Video from YouTube. All videos submitted will be reviewed by Hunting In Canada prior to posting.
Saskatchewan
This location is a secret. Only customer of Prairie Rose Outfitters will ever get close to these ducks.
Pond Full of Ducks
---
---