Pheasant Hunting Tips | Pheasant Hunting Outfitters | Pheasant Hunting Pictures | Pheasant Hunting Videos
We are pleased to bring you our great Hunting In Canada Pheasant hunting tips, Pheasant hunting outfitters, Pheasant hunting pictures and Pheasant hunting video for you to enjoy. Contact us at info@huntingincanada.com if you have any suggestions to improve this site.
Our recomendations and pictures for Pheasant hunting come from hunters just like you and us. We enjoy the outdoors every chance we get, and we can not get enough. Help us and others get more Pheasant hunting information by adding you own expertise to the site. Join the hunting photo contest or add your own hunting tips. We, and other Pheasant hunting fans will appreciate your contributions.
Pheasant Hunting Tips
Date & From
Hunting Tips
2012-08-15
By:Back Country
Pheasant hunting, or any upland bird hunting, is much better with a dog. Pheasants will run if there is no reason to fly. A good hunting dog will cover the ground between the hunters and keep the birds from getting past you and between you.
Pheasant Hunting Outfitters
Our Featured Pheasant Hunting Guides
For more Pheasant Hunting Guides see HuntingInCanada.net
Pheasant Hunting Pictures
Submit your Pheasant Hunting Pictures or enter our Hunting Photo Contest. All photos submitted will be reviewed by Hunting In Canada prior to posting.
A Boys First Pheasant Hunt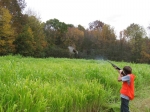 From: Colchester, CT
pheasant kill
From: moses lake washington
pheasant hunting
From: Weyburn, SK
My father and I decided to head south of Weyburn to hunt pheasant during the late season. There was a snow on the ground only days old. My young golden
pheasant hunting
From: Weyburn, SK
My father and I decided to head south of Weyburn to hunt pheasant during the late season. There was a snow on the ground only days old. My young golden